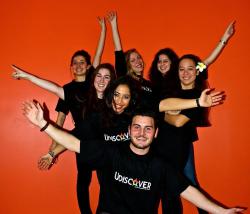 To develop the student's self-confidence, relationships and cultural skills.
Because companies seek   young multi-skilled managers who are audacious, responsible and creative PSB Paris School of Business developed a unique educational approach which challenges current practices of business school: discovery-based teaching called U DISCOVER.
Discover is an extra-curricular journey of personal awareness developed by Paris School of Business aimed at providing an operational and practical dimension to our 3 years of academics. To this regard, it enhances all of our teachings and helps illustrate the PSB motto: "Acting Beyond Knowledge".
Armand Derhy, Director of the Paris School of Business.